SLR Lounge Lightroom 4 Preset
SLR Lounge Lightroom 4 Preset
Mình chia sẻ link download bộ Preset trị giá 250$ này mong mem nào có tài khoản premium ở http://extabit.com download về và chia sẻ lại cho các thành viên khác trong diễn đàn.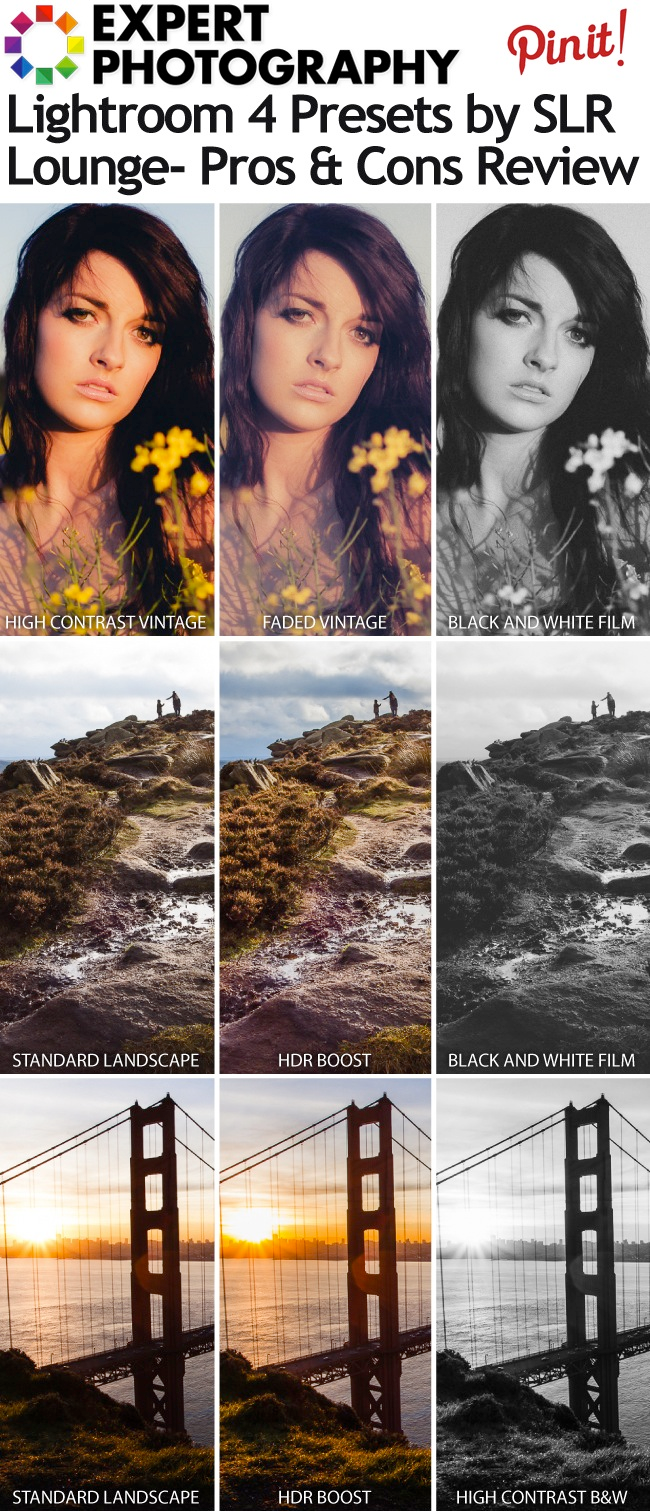 Download:
The LR4 Preset System is designed for virtually any look and effect, for example:
Basic Color Correction
Faux HDR Processing
Vintage Fades and Washes
Black and White and Antique Efects
Tilt Shift and Toy Camera Special Effects
Detail Enhancing
Portrait Retouching
and more, the sky is the limit!
What's Included in the System
189 Develop Presets – From 1-Click Mixologies, to Base Adjustments, to every type of curve (vintage, poppy, etc) you can imagine, to Color Toning and Special Effects; this system has everything you need to pull off virtually any look and effect within just a couple of clicks!
27 Brush Presets – For advanced retouch and detail enhancing, we have included 26 Brush Presets that will help you retouch skin, enhance eyes, enhance backgrounds, and more!
28 Mixologies – We have also included 28 One-Click Mixology Presets which include some of our favorite go-to studio effects, as well as some awesome creative effects and examples. Each built with the LR4 Preset System.
Preset System Digital DVD Download – Included in your purchase is the LR4 Preset System Digital DVD which contains 44 HD tutorials teaching you everything you need to know about the Lightroom 4 Preset System. From installation and updating, to how we created each and every Mixology, to advanced effects and retouching.
Ongoing Mixologies and Tutorials – We will constantly be releasing new Mixology recipes and tutorials showing you how to get the most from your LR4 Preset System! Simply follow us on Facebook and on the SLR Lounge Lightroom Page to see the latest and greatest!
DVD Table of Contents
Besides the actual presets and the exercise files, we've included the following video tutorials:
Chapter 1 – Intro and Install​
1. Introduction​
2. Preset Demonstration​
3. First Time Preset Installation​
4. Installing Updates​
5. Develop Presets Introduction​
6. Brush Presets Introduction​
7. Setting Standard Import Preset​
8. Customizing Standard Import Preset​
​
Chapter 2 – Creating Mixologies​
1. Soft Portrait Standard Color​
2. Soft Portrait Standard Desaturated​
3. Soft Portrait Standard B&W​
4. Vivid Landscape Standard Color​
5. Vivid Landscape Standard Desaturated​
6. Vivid Landscape Standard B&W​
7. Vivid Landscape HDR Light​
8. Vivid Landscape HDR Strong​
9. Vivid Landscape HDR B&W​
10. Vivid Landscape HDR Grunge​
11. Vivid Landscape HDR B&W Grunge​
12. Stylized Color Contrast Crush​
13. Stylized Color Teal Orange Crush​
14. Stylized Color Yellow Violet Crush​
15. Stylized Color Whimsical Green​
16. Stylized Color Whimsical Yellow​
17. Vintage Fades Neutral Fade​
18. Vintage Fades Cool Fade​
19. Vintage Fades Warm Fade​
20. Vintage Fades Bronzed Fade​
21. Vintage Fades Warm Punchy Vintage​
22. Vintage Fades Subtle Poppy Vintage​
23. B&W Fades Bright Fade​
24. B&W Fades Fade With Clipped Blacks​
25. B&W Fades Soft Film Fade​
26. B&W Fades High Contrast Film​
27. Toy Camera Warm Faded Slide Film​
28. Toy Camera Poppy Orange Teal Slide Film​
​
Chapter 3 – Brushes & More​
1. Retouching a Portrait Part I​
2. Retouching a Portrait Part II​
3. Detail Enhancing​
4. Creative Brushing​
5. Tilt Shift Effect​
6. Advanced Dust Correction Curve​
7. Removing HDR Effects Over Skin​
​
Bình luận